Hugh congratulations to our CH-Grain de Poivre "Kyle"
for his CAC during the National LOMMEL SHOW (B) today
"Poupi" is relaly very proud of her litter brother and we, we are on a little cloud.

ASee him very soon for his first French exhibitions !!!.

Hugh congratulations to his owners Christian and Patricia,our Belgian friends, his proid owners ...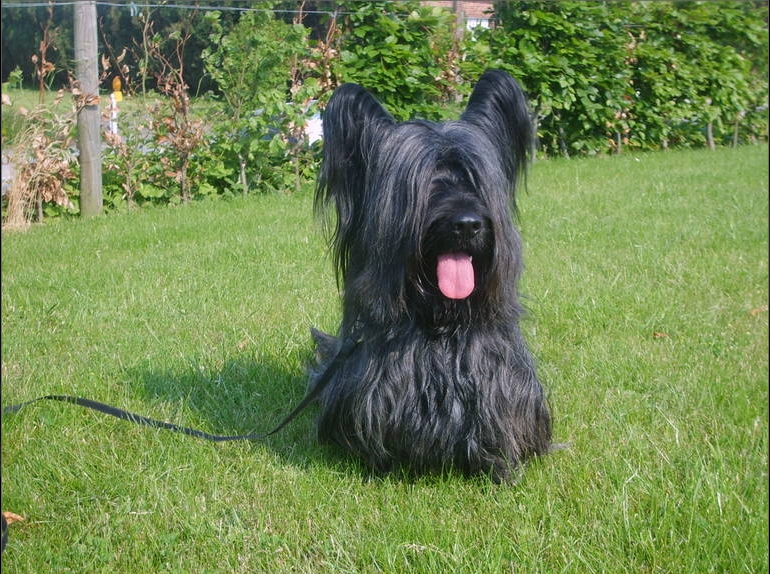 Kyle enjoying his "after-exhibition !"

Cock-A-Doodle -Doo"Bébé",
CACIB, best of breed during the last French Championship.
Many thanks to our charming handlers, Estelle & Blandine, for their excellent to handle our dogs each time with a such great quality who allowed to our Multi-Champion to become once more Best of Breed in a valued cometition...
Hugh congratulations to our "kid", "Gimli", who won , one week after his CAC-CACIB in Madrid, the CACS & the Rcacib.
Hugh copngratulations to our friend, Reine, his proud owner...
Hugh congratulations to Divonna for her CACS,CACIB, BOS and to the lovely "Diane", for her second place Diane is owned by our friend Muriel ...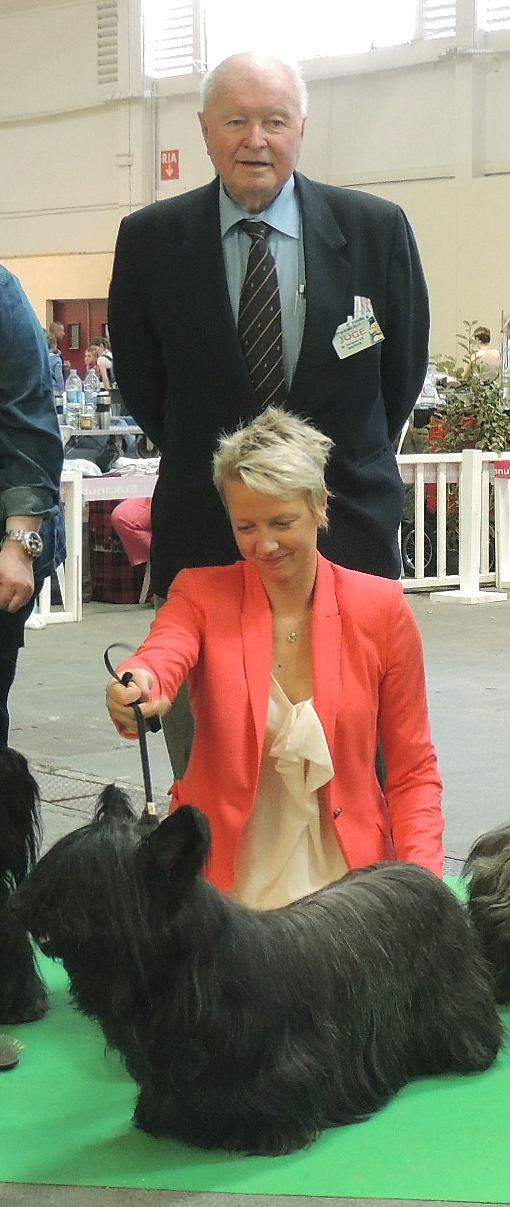 Multi-Champion "Bébé", Viceroy's alive memory and his charming Handler, Estelle ...
Many thanks to the judge, M. LEMAGNAN, emminent FCI JUDGE, to have recognized our dog's qualities ...
Why only 4 Skye Terriers entered in Marseille for a French championship?
The gossips will always find a lot of bad reasons, even going as far as allowing uncertainty to persist on the integrity of the judge who has done the judgement. You should not be perverse and to see the evil everywhere. The French championship of
Marseille was not more boycotted in Skye Terrier than in other breeds. The proof, for the Beagle breed, only 22 dogs were entered against about fifty usually in the international exhibitions. Marseille does not unfortunately enjoy a very good reputation and people are afraid, especially at the moment, when terrorist attacks are a reality all over the world. I felt it very clearly by speaking with my customers within my professional activity. Marseille is also very off-centered. People of the France's North did not make, for the greater part, the trip. Some gave their dogs to the handlers which allowed them to be present without having to make the long and expensive trip. It is the solution that we had also chosen because our daughter is in s avery serious period of school exams, we could not let her in this delicate period. One of the most important breeder of Cairns Terriers normally present everywhere had not made either the trip, proof is there...
The French championship was not boycotted, no more than the judge officiating there (judge eminently recognized in the canine world and specialist of Skyes, maybe he has discouraged the expositors who used to win easily when they are alone to be entered under none specialist judge ??? ), Contrary to what the gossips are willing to try to let you think, it is a bad combination of circumstances... I'm sure that the next French Championship will proof I was right. And congratulations to the winners in this championship who by winning the CACS become champions of France, if they satisfy the other obligatory conditions of homologation.

Glam'n Glitz, CAC-CACIB-BOS- BOB
in Madrid (E)
...and hugh congratulations of course to Poupi's friend who did the trip with her,
the sweet Gimli who also wins the CAC-CACIB-BOS
*Gimli is owned by our friend, Reine DUTRIEUX (PATOCOU Kennel- FRANCE).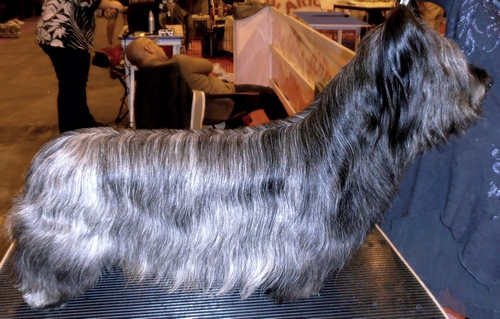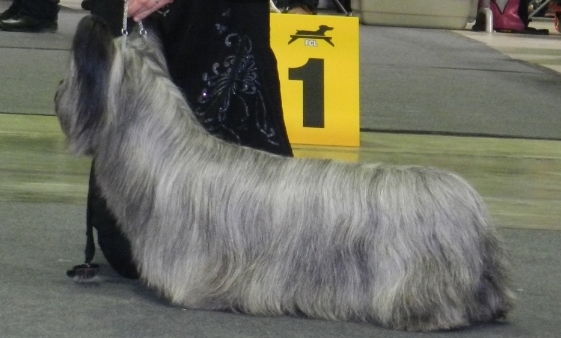 *Gimli on the left side and Poupi on the right side

Kyle, for his 5e exhibition, became today Luxemburg Champion
*Grain de poivre "Kyle" DES VALLEES ENGISSOISES (litter brother of our little Multi-Champion Glam'n Glitz "Poupinette")
gained his first title of Champion today, the famous Luxemburg Title, 1 month after his litter sister ...
Hugh Congratulations to his owners and friend, Patricia and Christian, from Liege (Belgium) ...
Also warm congratulations to our friend, Muriel, for the Luxemburg title of her little Diane DE CYNOPOLIS (breeder M. MAITRE) ...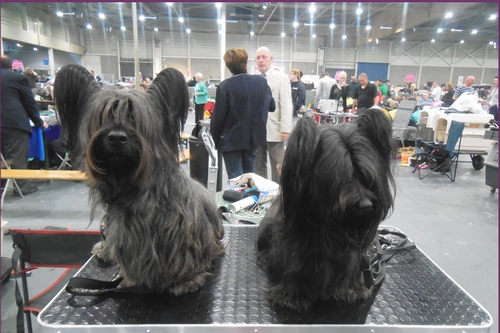 Kyle et Diane

Les "Vallées Engissoises" the only one kennel of Skye Terriers in France approved and recognized by the French Canine Society and the national breed club
for his work's quality as selector-breeder and for the quality of his dogs...
http://club-ate.com/nos-races/le-skye-terrier/producteur-skye/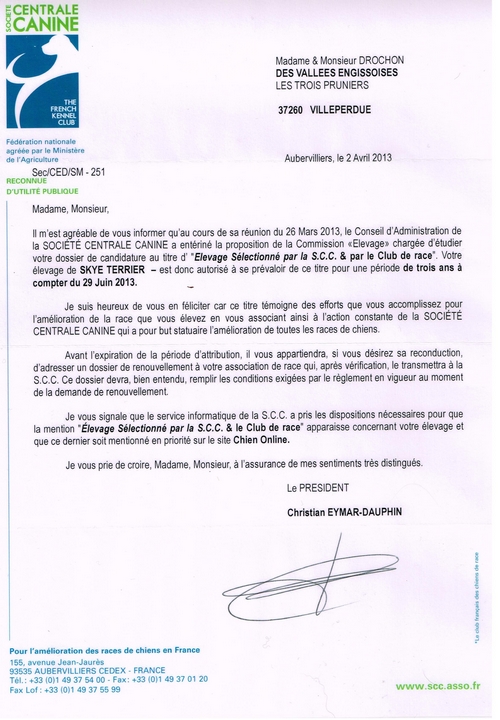 *Official title recognized on the official breeding documents.
To work seriously far from gossips, it's the only one thing we are looking for ...

Tchao, my lovely ...We'll miss you ...
V.I.P of the Sixteens, the litter sister of our Vici, just crossed the raimbow bridge...
After a terrible fight against the illness, she lost her last round against the death ...
V.I.P was the bitch of our friend, Michel... She will sleep in peace in the casthle's garden where she loved to play .
A such marvellous little doll. I bred her and later I helped her to have her pups...
She wa sthe mother of Three drop ears (in a litter of 5 pups). A record ! .

We share her owner's pain
and have a special tought for the little Five O'Clock who will be abliged to learn to run alone in the garden without his mother ...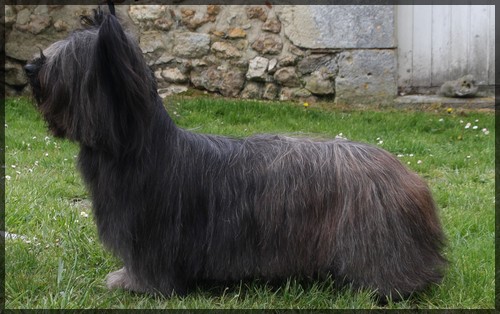 VHappy hollidays in the Vallees Engissoises
During his owners' hollidays, Crocodile's Tears "Charango" (Multi-Champion)
came back at home to play with his friends !
We love it !!!!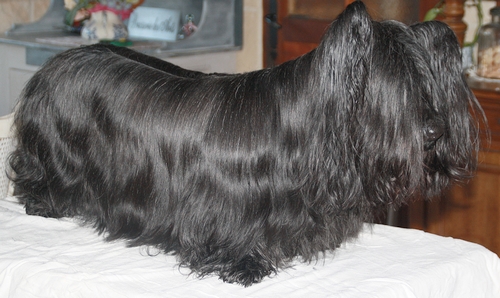 *"Charango" is owned to Philippe and Véronique GENTIL & Elevage des V.E


Come to meet our dogs during the next French Championship
In Marseille (first weekend of June)

We are proud to announce that our next litter is planned

The wedding of the approved bitch, Young French CH "Cuddle up to me DES VALLEES ENGISSOISES"
(litter sister of our Mutli-Champion Cock-a-Doodle-Doo aka Bébé),
with "Grain de Poivre DES VALLEES ENGISSOISES aka Kyle"
(litter brother of our Multi-Championne Glam'n Glitz aka Poupinette)

(For the moment we can't take mmore bookings for bitches but only for males. We'll see after the birth)

Double win for our kennel during the springer Luxemburg show !
"Glam'n Glitz" eand her litter brother "Grain de Poivre Kyle" won the CACL during the International springer Luxemburg show,
(14 Skye entered, jugded by M. R. KANAS-Slovaquie (Specialist and breeder of Skye Terriers under the affix FLANAGAN)
Glam'n Glitz, just 2 years old, gained the CACL- CACIB and became Luxemburg Champion
Her brother Grain de poivre gained the CACL and the Reserve CACIB behind the World Champion 2012
Many thanks to his owners for their good cares and their work, we wish to her owner, Patricia,
to become better and better for her handling, but everything is comping with time !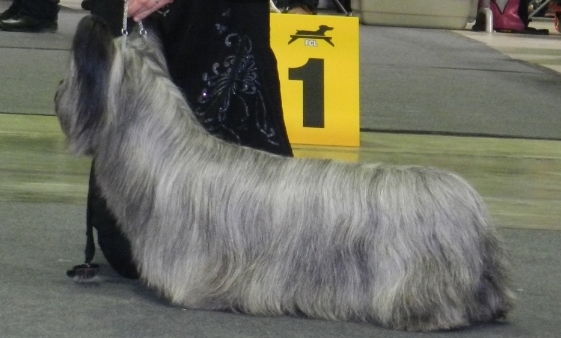 Poupi - Luxembourg (30/03/2013)
MThnak you to à Agathe BOURGEOIS for her lovely pics of our Poupi ...

The "Salon de l'agriculture" a nice day spent with our friends...
Thank you to our friend, Catherine, for her help and for Pixel's participation in our Affix group,
Thank you to Chantal and Hervé to take care of the Terriers' ownersby bringing some food and drinks...
Thank you to my Daughter, Maeva, for her help and her support in pur day life...
Thank you to my husband to be there with me every time even if he would prefer to be somewhere else !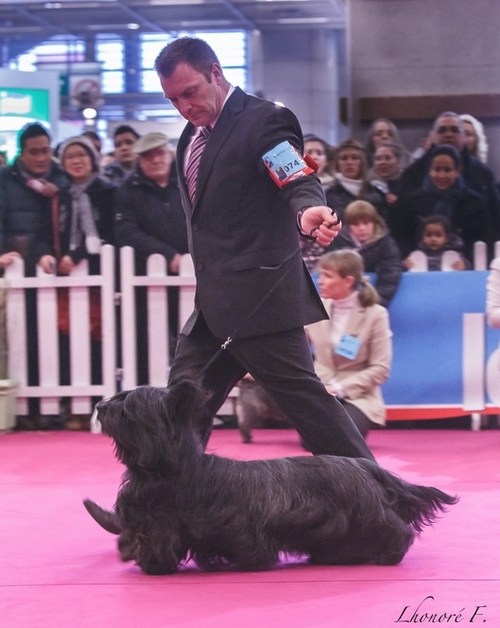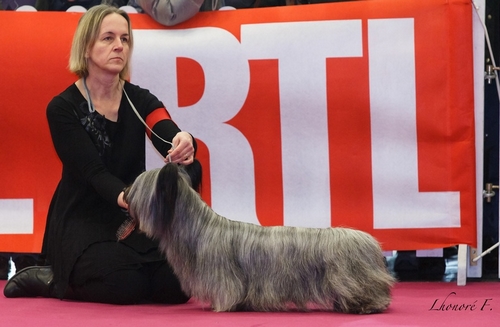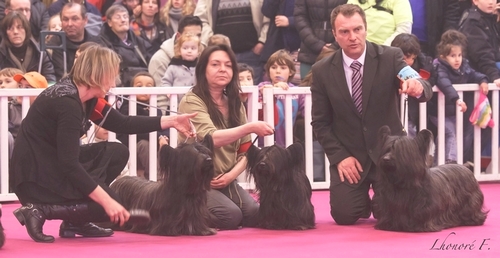 Tha "salon de l'agriculture" allows to all the best dogs of the last club's championship to represent their breed. Invited during many years, it was not easy for us to participate because between the work and the kennel, we don't have enough time to be everywhere. This year as the exhibition was planned a saturday, we decided to make an effort.
Bébé (5ème in the group) Glam'n Glitz (CACS-BOB) and our affix group with Pixel, her litter sister Lily and our "Bébé (Cock-a-Doodle-Doo).
A lovely day with a public very interested by the breed. We are happy !!!


Many thanks to the both judges s Messieurs M. KONIG (CH) & N. Janovic (RS) for their very encouraging comments.
Thank you to you, my little doll, for our complicity ...

Bye-Bye Tom Pouss',we'll miss you ...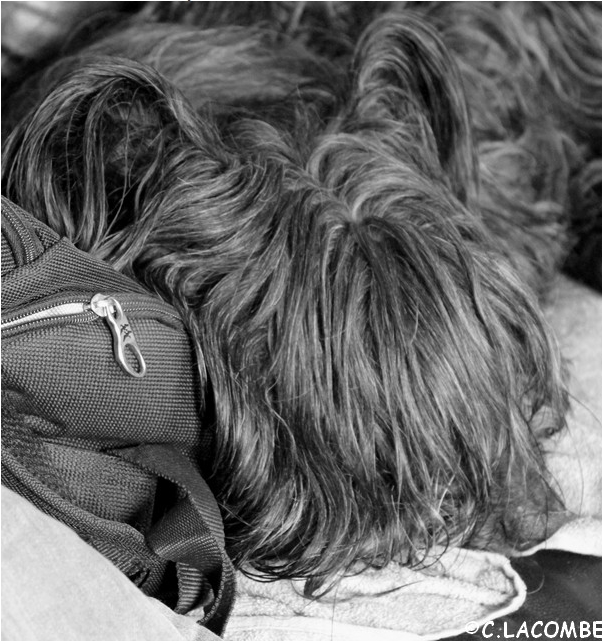 Glam'n Glitz, CAC-CACIB-BOS in Mouscron (B)
5 Skye Terriers entered- Jugde : Liliane DE RIDDER (B)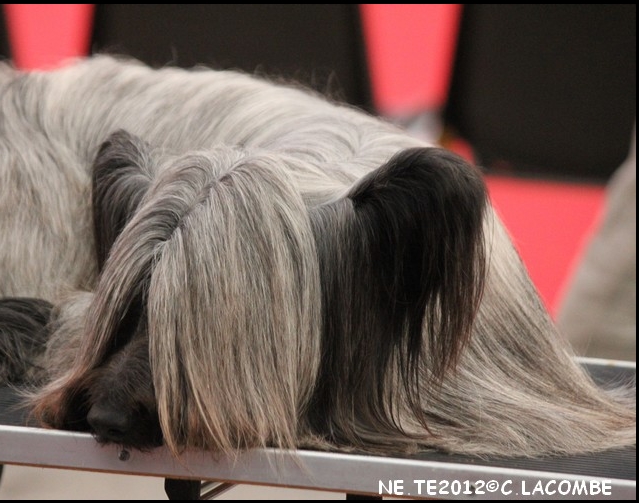 Photo Catherine LACOMBE
La poupinette has been shown by her owner, my husband Philippe, exceptionnaly ...

"You won't repeat to my owner that I sleep
son his new sofa when he is gone ???"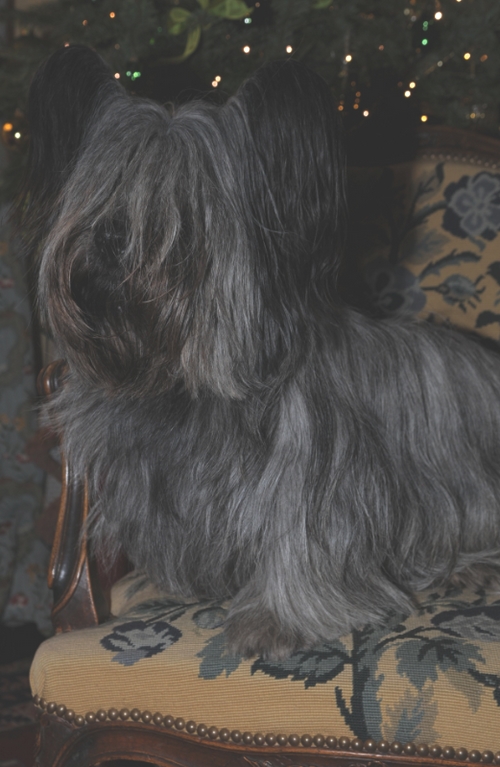 The Belgian "Cheeky" (Grain de sel DES VALLEES ENGISSOISES)

Nathalie, Philippe, Jordann, Maëva and all their jolly fellows
are happy to wish you an happy new year.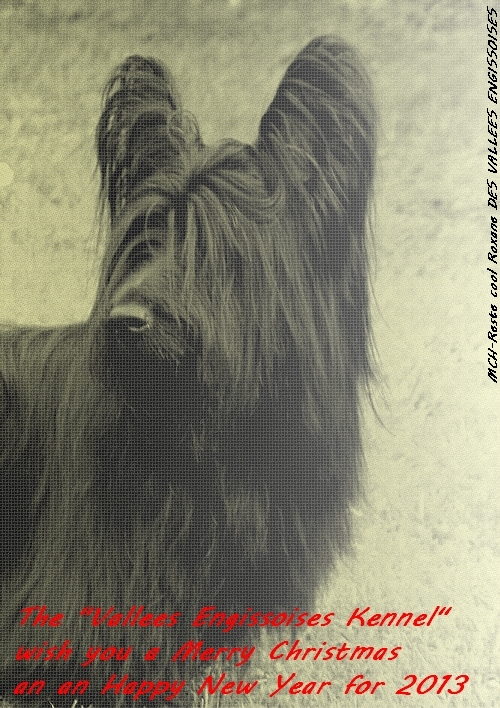 Roxane, for ever in our hearts ...

Very friendly, Fluke met the God father ...
Who said that a Skye could be timid ???
Fluke disguised as reindheer met the God father for the first time and gave his order : one thousand of cuddles and a lot of sweets !
The God Father took his order and confirm to the little dog that he will have all what he wants !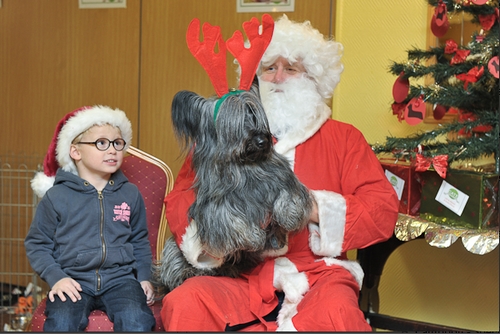 Fluke and his little owner during the Christmas day orh=ganized by the Terrier club ( A. DECHEZELLES and C. KASINOWSKI for the terrier club "C.A.T.E").
(photo - club des amateurs de Terriers d'Ecosse)...

A "Vallée Engissoises" dog in the 12e place,among the 20 best Skye in U.S.A
Warm congratiulations to our little Grain of Silk and her owner and friend, Holly,
for their excellent results on the American podiums ...
The little "Grain of Silk", Violette for firends, took the 12e place in the final classment of the best Skyes for the 2012 year . Violette is not yet 2 years old !
She is the only one French Skye to enter in the Top of the 20 best Skye in U.S.A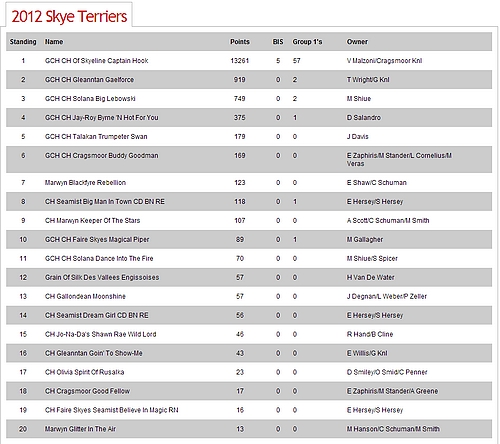 09/12/2012
Glam'n Glitz, CAC-CACIB-BOS à Bruxelles,
Belgian Winner
7 Skye Terrriers entered - Jugde : M. MATE-DURAN (E)
(

Glam'n Glitz, french champion at 19 months old,
Congratulations to you my "Poupi" !
For your 5e exhibition, you was an honnor for our kennel
A such tribute to her grand-father, Roy, who thanks to you will never be forgotten!


She paraded as an adult in spite of the low temperature (2°C) in the exhibition center, surrounded with all our sympathic friend team with whom we spent a nice day in the happiness and good mood ! Glam' n Glitz (aka Poupinette) became a French Champion yesterday, even if she is only 19 months old and even if I consider she is still a baby. She also gained the B.O.B e and the BIS3 of the National terrier club. His best friend, Bébé, ganed the title of best Skye Champion, by wionning the champon class champion but "offered" the BOS to the CACS winner entered in the open class. As for our Vici, famous for his particpation in the Albert's Camus life's movie, he gained) the title of best Skye r veteran, and finished 2d of the Veteran BIS.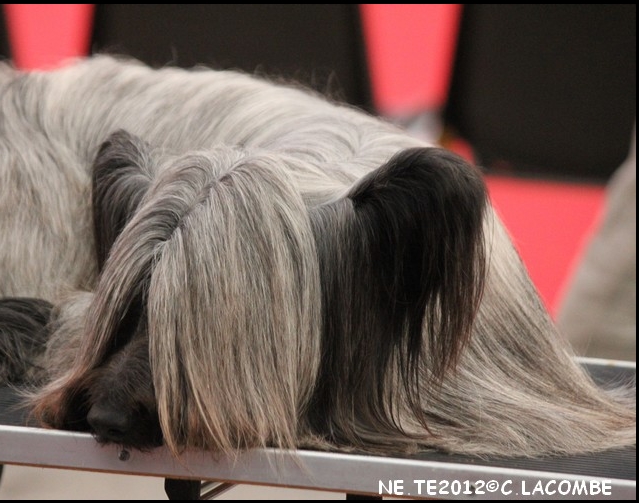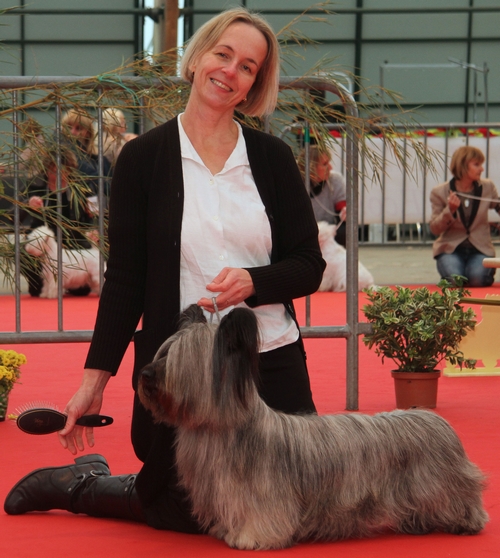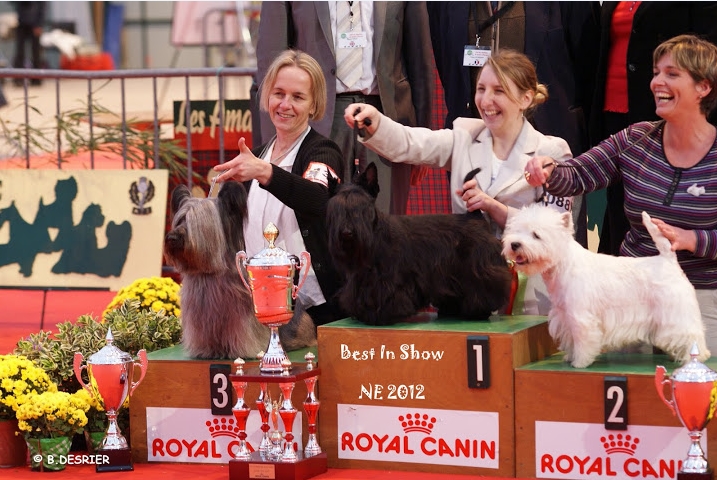 Photo 1 (C. LACOMBE) : "the rest of the warrior" - Photo 2(C. HERMELINE)- Photo 3 ( M. SCHULER) :
Glam'n Glitz, French Champion 2012, B.O.B (16 Skye Terriers) - Glam'n Glitz, 3ème in Best in Show

Grain of Silk "Violette" bring hight our name,
As her litter sister, Violette knows a fabulour success in the country where she is living !
BOG2 in the Black Mountain Kennel Club exhibition
à She is only 18 months old and she enters in the Top 20 of the Skye terriers in U.S.A
Jugde : Norm Patton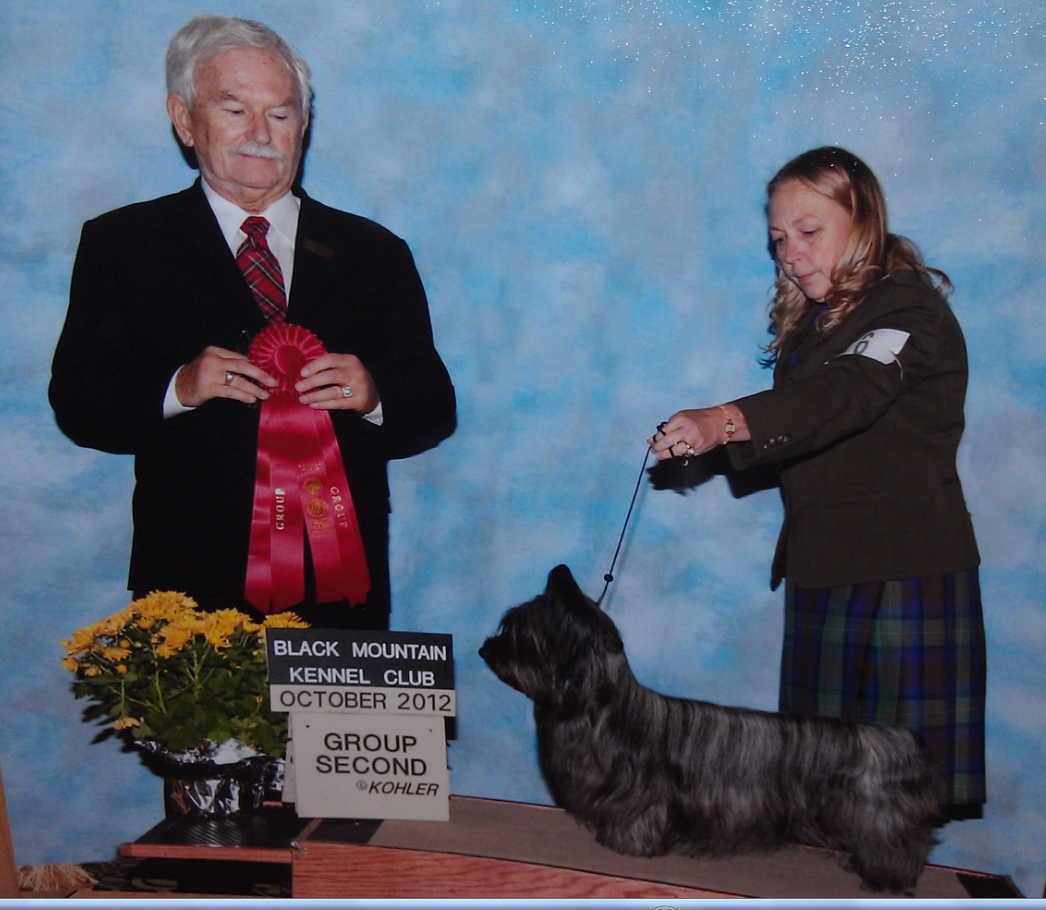 Confratulations to her ownerand friend !

An angel is gone ... Tchao Caro ...
Our little "Caro." has lost, after three long years, her fight again an horrible illness ...
She was the best friend of our son, and was a little bit as a member of our family...
Caroline was a smile, a kindness. A such crual lost ...
We'll miss her so much. Parties between friends won't nevre have the same savour ...
Tchao my beauty, where ever you could be, we'll never forget you, your laugher will continue to argue in our "Trois Pruniers"' house...
We greet your courage and wanted to thank you for all these things you allow us to know with you ...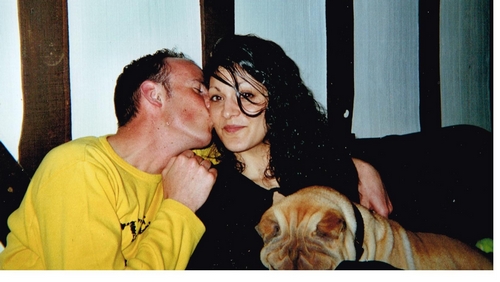 Caroline & Jordann, always so friends and accomplices ...

Roxane, already one year and still so present ...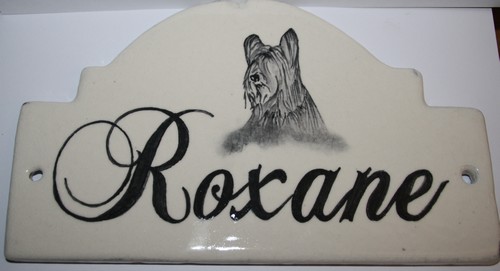 *Plate realized in homage to our Roro by Véronique of the online shop "Mineral et vegetal" (now closed)