A phenomenon was born in the Vallees Engissoises Kennel !!!
When the little bitch left our house, she had three months. Its ears were not rised but I had no doubt, they would. I have seen never really a lot of Drop Ears Skyes, they are so rare and very appreciated all over the world. In general, breeders beware the ones they product jealously.
I found a new house for this bitch in co-ownership because I didn't want to keep one dog more, I do not wish to increase my current kennel consisted largely of my old companions, I did not wish to keep another dog now ...
I chose people whom I knew well and whom I trusted because it is a reliable contract above all. Divine left me to go to live with Carolin and her little 6 years old boy Pierre in the region of Bordeaux. We knew the family of long-time Caroline, her parents already own two dogs of our kennel. Caroline lived few frightening months because as she is a perfectionist and as she is impressived by the engagement we have together she started to be very obset when she realized that the ear set didn't move at all ! Months after months , ears remained desperately low . We decided to stick theses capricious ears when the small bitch had 7 months. She had to come back to my home I wanted to make me a real idea on the causes of this ear problem . When the little bitch arrived at home, my husband, Philippe was formal. It is Drop Ears. I, of more suspicious nature, I asked advice from my friend Otto Kcral, judge and Austrian Skye breeder (Skye O' Mania Kennel) who gave me his felt: Divine Idyll is one "Drop Ears" , no doubt, with an excellent set of ears and he even proposed me to buy it for his own kennel if to have a Drop ear was a problem for me ! No, Divine Idyll will stay with her owner who love it for what it is really and who do not see in this phenomenon of the nature, a bitch different from the others. Caroline was quiet happy and relieved when she knew the conclusion of this era set problem, because she will keep all her life a Skye with a puppy head !!! But how was it possible to have this type of dog with my reproductive dogs ??? The bloodlines of FINNSKY Viceroy ( his grandfather) and of CEBOLLITAS Made In Finland (her grand mother) are able to give some "Drop Ears" because in their ancestors there were some drop ears, we have all the lucks to breed some other Drop ears in the future ... A real luck for us when you know that it is born on average Drop Ears for 100 "Prick Ears" ...
We wish all the happiness of the world Divine Idyll and her owners, far from the turpitude of celebrities. Divine Idyll will reproduce - if, when it will be an dult, she is an attractive bitch with all the necessary qualities to give some quality pups, - under the affix of ' Vallées Engissoises " which will celebrate its 20 years of existence this year...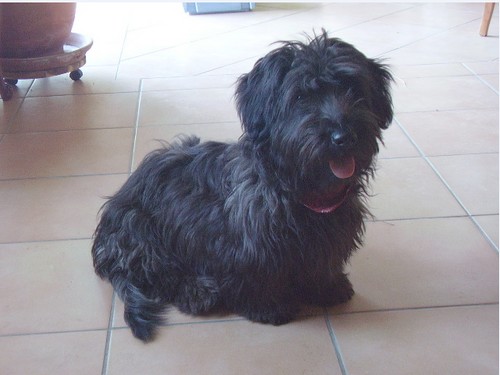 03/05/09 ...
Divine Idyll is a devil, told me Caroline, her owner. She doesn't mind to be the own Drop Ear in France, no, the own thing does she want it's too play with her best friend, the Fox terrier bitch. Happy, the litle Divine "Didou" for friends, is happy and very well in her mind !!!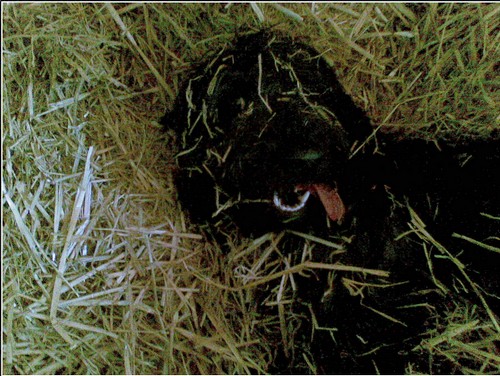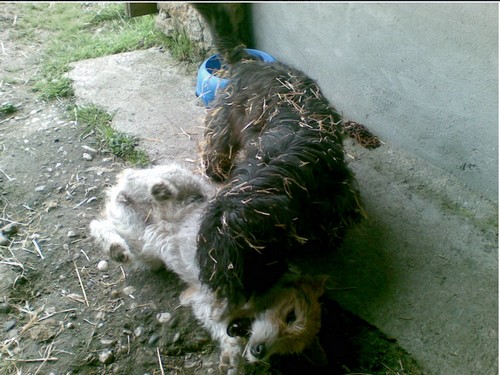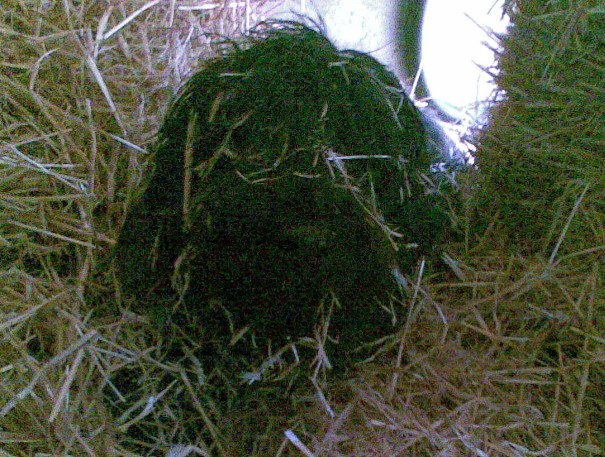 Photos Caroline P., her owner (mobile phone photos in low resolution)

26/05/09 ... Divine is 8 months old !
"She has really a lot of coat, and still a lot of puppy coat. And her farmer activity, the tangles arrive very quickely ! I brush it every day or maximum every two days. She is bathed every 15 days but she could have one every day !!! The devil love the ditch full of water, to roll itself in the dry grass, to eat some horses mud (it make the coat shiny), to scratch the grass with its teaths and to catch mouses, moles and differenty little animals in the meadows ... Then all this activities give me a little work to keep its coat in quiet good condition !!!" Caroline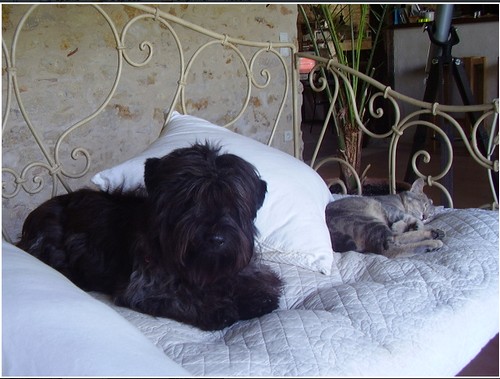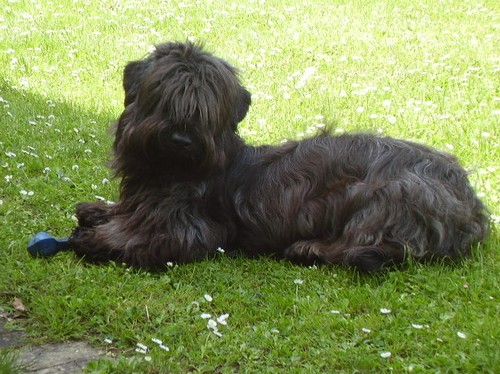 End of June 2009
Divine Idyll is already 9 months, time runs very quickely. The little girl became recentely a young lady but it's not for that reason she changed her life. She follow to go with its owner Caroline to food horses, to roll itself inb the dry grass, to hunt rabbits and all other sympathic animals. He we are a Terrier dog or not !!!