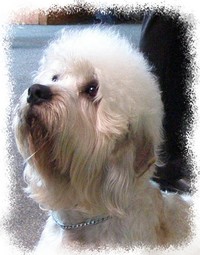 "Monsieur Boubou"(Mister Boubou)
SUNJOY'S Speciale Reserve (28/02/2006)

French, Spanish, International, Macedonian, Bulgarian, Montenegro, Luxemburg, Portugal CH
Recommanded Approved reproductive dog by the French Terrier Club

April 22, 2007 : Gin Fizz my love**Boubou's grand-father ,
"You can be proud of your" fillot." (fillot is an affection word which mean son, kid) I know that you see us even if you are in the Skye… He has your charisma, your aura. Beautiful, proud, and a little bit elegant… a little mechanic with some silver steps… I know it's not you, but when I look at his eyes, I see your shining flame, the flame, you left me like a breath of life, this morning in December 2001, it is stronger than me.
You learn me what a Dandie is , I'll care your "fillot" thanks to the experience that you allowed me to acquire… and God knows how much I love him as I loved you…
I am proud of you, my sons, my dandies…
Seven years after you let me, here, alone today without you, I know that you take care of me through your son…
I will do great things with the " little" that you have sent me, my dog, my love…
I will never forget you… you'll stay here for ever, with me, in my heart, in my thinks… I love you, please continue to have a look on us… "
Nathalie…



13/02/2007
But what became Boubou, after all this time??
Boubou has grown considerably. He just blows its first candle. It has found a place among the troop of Skyes where he has been able to find a girl-friend!!!!
It is a very lovely dog. He is always happy, joyful, a bit crazy. It has a lot of defaults, including a strong character when he meet another male. He thinks that he can compete with the "Tchi'" which wants to stay the own master at home.... The Tchi' 'does not appreciate at all this excess of Freedom, he was there in first and will stay the leader. Boubou does not stop to provoke him. The reasonable Tchi' ' wait, wait and Vroom , as a racing car, run after the little dandie... Boubou run away like a rabbit. Of course even if we laugh to see their roundabout, we'll never let them alone. We are living with a lot of Skyes since many years and then we learned that you must always pay attention if you don't want any big problem of fights...… His other big default : It is very greedy. He could died for a cake, a piece of meat or anything looking near or far to something to eat. I pay attention to him because he eats so fast that sometimes, the food doesn't go in the good way.... I take it back by the legs, put his head down and clap in his back, and then surprise, few dry food, fall on the floor. his emotions forgotten, Boubou finishes as quickly as possible, the rest of his bowl…
His qualities? Because they are very important. This is a generous, a lovely, a nice and gentle dog.... He loves everybody without exception. our friends are fond of him, in general.... And Boubou? Where is the Boubou?
I love this dog who is very intelligent, normal when you are living with Skyes!!
When he sees that I take the trimmer, the carpet, the trimming stone and I put the stool in front of the table, he leave the room, discreetly first then when he is out of my view, he run under a movie...and be sure that it can not be found anymore.
"Monsieur Boubou" is sleeping all the time when I groom him. He has good coat and a pretty color, however, that the hair of dandie is easily untangled when it is silky, as the dress, Chest, head, legs, a hell…
Boubou is fond of love for me. I've never done something special for that.... He chose me and he loves me. When I'm watching television, he goes on my knees and start to sleep. When I go back home after my day ok outside work, he sings during a long time, running very quickly all around the house like a crazy little devil..., He wants to be the first to be in my arms, pushing all Skyes and forbid them to be near me, I pay attention because I do not want him to become too spoiled. Anyway, I missed his Education as I spoiled him too much... I did not have the heart to be strong with him, Philippe takes this job....
He use to sleep with Maëva who took her educative work seriously, not really pleasant every day for the Boubou. Jordann
has taken a lot of time to be able to love this new dandie. Little by little, the little dog began to be loved by our Jordann and when Jordann just spend the weekend at home, he sleeps automatically with Boubou. happy end… but this does not mean that Jordann forgot his dog, Gin Fizz, a love story as they lived was unique and he will keep in his memory for the rest of his days, his first dog…
Boubou is a little gift from destiny. I never compared to his grand father Gin Fizz because it would be too horrible to compare two dogs, anyway they are so different that it should be a folly to take one for the other one..., but I can't forget when I look at Boubou, that is a part of my " daddy" which comes back, it is there. He has his eyes, color, it's so wonderful to see the flame of Gin
Fizz continue to shine in the eyes of his grand son, Boubou…
I wanted to find the character of Gin Fizz in Boubou. I wanted, even if I feel guilty, find my dog because I miss it terribly
But curiously, in fact, I think it looks much more like her grandmother Indy…
The death of Gin Fizz is always painful, but when I look at his pictures, I do not cry anymore, it's time to turn the page
And tell myself that he sent me the greatest gift of heaven….
Thank you my Daddy…


.
Saturday, July 22, 2006
Boubou had his TAN (test of natural Aptitudes) today with the mention Excellent, congratulations, Boubou. He was with his girlfriend Lily. They were both excellent in a Academy particularly difficult.
Boubou, five and a half months, has behaved like a big boy. Nothing frightened him, he met a lot of friends, very different as usual and with different colors,
During the rabbit test, even if he has been intrigued by the animal, he preferred to look at his Mum, eyes in eyes… A small cake, a big kiss, it's enough to get an happy boubou…

Congratulations BouBou and Lily, ah the power of love!!!….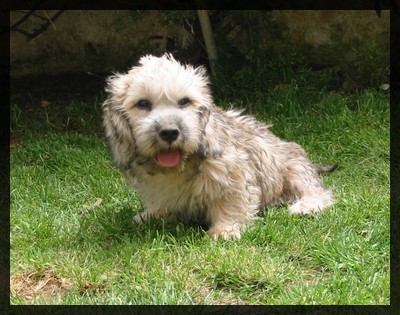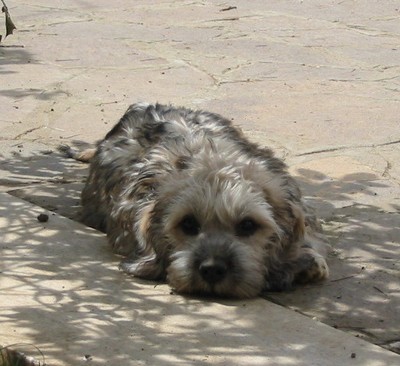 Boubou (on the left side) & Only You DES VALLEESENGISSOISES (His father, on the right side)