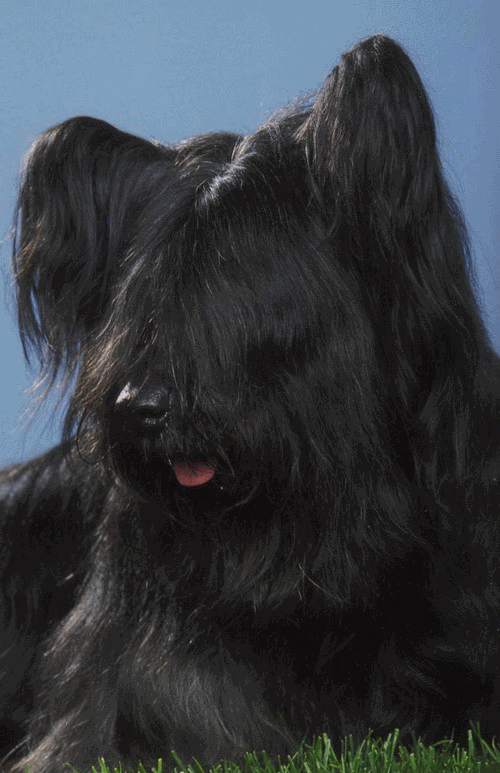 Photo Christophe HERMELINE
« Roy » or « Le Papé » 1994-2009
11/01/09 : Bye-Bye ROY ...
Hommage to Roy from people all around the world read
FRENCH INTERNATIONAL LUXEMBOURG SPANISH PORTUGAL SAN MARIN MOROCCO GIBRALTAR WWJ95, Approved reproductive dog, ELITE A
MULTI BIS VETERAN
BIS VETERAN AND HONNOUR CLASS OF THE DIAMOND JUBILE (KYLEAKIN-ILE OF SKYE)

When you have the luck to meet a such wonderfull dog as was my Roy, you'll never see your life after him with the same eyes ...
ROY or the most titled dog in france...
I just came back from the World Championship in Bern (Switzerland)with my eyes full of pictures. I've seen, me the little French breeder, I was started with my kennel, and I couldn't find really some good males, and there… so many wonderful dogs, I never saw before dogs like that. Long, black, good necks… a sort of dream… I was totally fond of Thea Dalhbom's dogs (Finnsky Kennel). It was a big turn in my career, I knew which kind of dogs I wanted and I'll have some…Later, I was at a Spanish show, I met there Finnsky Viceroy, the copy of his father, the World Winner dog. I dreamed. I watched him and I engaged the conversation with his owners. They said me that Roy was already a father, I bought one of them : Indiana Jones Jr "Juju" for friends… I followed Roy during a long time. It was the dog of my heart. I loved him. I couldn't imagine that one day he will be mine, I will save his life…I pick from Spain the beautiful Roy in July 2000. It was a poor thing, very slim, ill, and sickly…He couldn't walk alone… I was very angry. When you have the luck to have a dog with this quality in your hand, in your life, you can't let it down, you must love him, care him and give him full of happiness. I gave him a lot, lot of care. I visited my vet a lot of time. I gave him a lot of quality food and vitamins and I started to show him with an instant success. We won together many titles of Champion… Roy is actually the best male in France, the most titled male in France and the best stallion in France. Royou, for friend, is certainly, one of the most important dog of my life… I'm really fond of him. He is wonderful, nice, and really macho. It's a dazzling. It's the dog of one life… Some happiness every days… At ten years old, he is superb, don't become old, the time slims on him… he has always the same pleasure when he is in a ring…Roy is very macho and proud of him… He like to be watched, and likes to charm everybody… But be careful, at home, it's a great man and don't take his boss's place. He is the big boss, and even if he is old now, he keep his place… He pay attention to hi harem and is sleeping in my arms, in my bed… Roy? I will go to the end of the world for him and he knows it… It's my baby and as Antoine DE SAINT EXUPERY said in his book 'the little Prince" "when you save a life, you are responsible of it for the eternity…" nobody will touch to my dog, nobody will give him some sadness. He has six year of happiness to catch back et I'm determined to give him a fantastic, an unforgettable life… Oh please… if you met him don't tell him what I said because he will become too proud of himself, and maybe too macho…
Won bet!!!! Roy will be 14 years old in few months. It's a grand father now. He spent an happy life on his owners bedroom bed. When you disturb him, he become grumpy, doesn't support anymore babies, screams, noise. He became very old, my dog. His yeyes don't see a lot, bump himself into movies or doors. Then when he bumps in an obstacle, we help him and he follows his road. He doesn't sleep during the night, for us nights are very long but... We love him after so much and decided to be with him, to help him during all the rest of his life. it's our work to take care of him as he took care of us...

Roy is issued of the famous origins JEBUSA, ELISSA'S, RANNOCH SKYE, SILVERSPUN, FINNSKY, OLIVIA, SKYE ARK, SKYECREST, GLEANTANN, HALLEBERGETS, ROWERS etc...
(pedigree on simple request)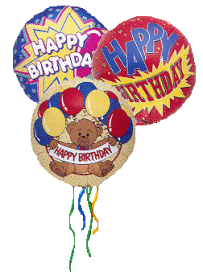 Happy birthday, my kid. Read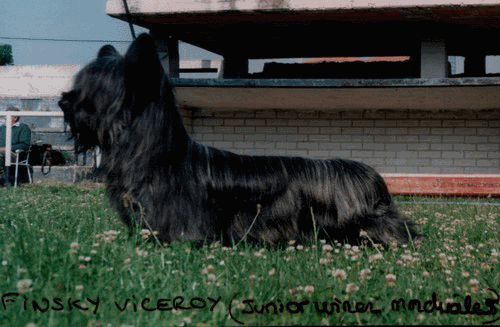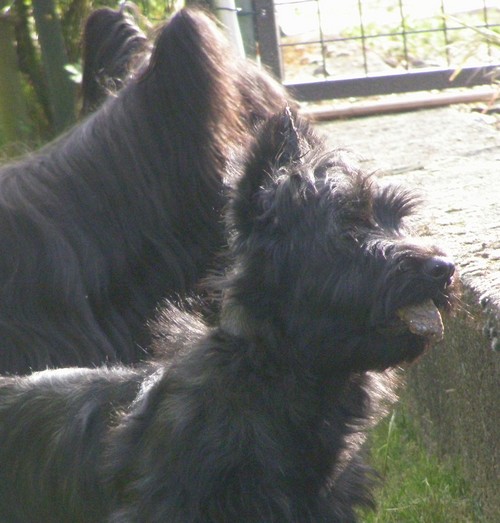 Roy et son petit fils ...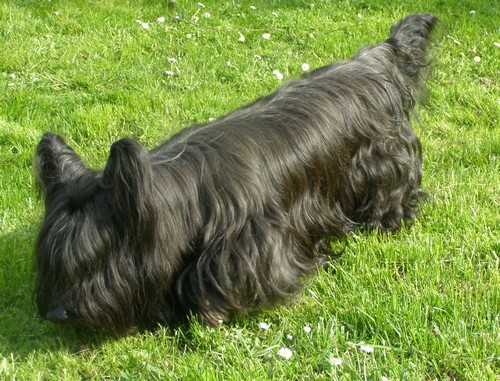 Roy 03/05/08

Roy est issu des origines JEBUSA, ELISSA'S, RANNOCH SKYE, SILVERSPUN, FINNSKY, OLIVIA, SKYE ARK, SKYECREST, GLEANTANN, HALLEBERGETS, ROWERS etc...
(pedigree sur demande)